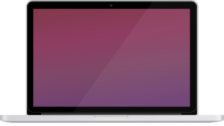 Macbooks are expensive and are most likely worth repairing.  These repairs take a little longer than PC repairs because some of the parts need to be special ordered, for example, Macbook Batteries.  The most common issues with Macbooks are their Hard Drives go bad before the Macbook itself crashes.  We will need both your Macbook password and Apple ID password to repair Macs.
Everything on a laptop, other than the motherboard and graphics unit, can be repaired.  Viruses, overheating, hard drives, memory, blue screens, etc.  If for some reason the cost of repair gets too high, we understand that it may not be worth fixing.  We will call if we run into any problems.  Please provide us with your power cord and passwords to login.
This repair is the most popular repair at our stores.  Viruses are easily preventable but not everyone know how to prevent them and ends up getting infected.  We can remove 99% of viruses and spyware.  If you have an infection that we can't repair without harming the PC itself, we will call you before taking further action.
Staying protected takes regular maintenance and a little knowledge on how viruses work.  Upon picking up your PC we will teach you the most effective ways to stay protected.  We also give you FREE cleaning software that you can use to maintain your PC so that you can keep your PC running quick.
We provide both PC and Apple services, including Mac data recovery, Apple laptop screen replacement, computer optimization, motherboard and logic board repairs and replacements. Same day Apple computer service is also available. Call us now at 570-824-4774 for a free, no obligation Apple technical conversation. One of our Apple computer specialists will be delighted to assist you in any Apple matter. Our Mac computer technicians service and repair all Apple models.
Our Services in a Nut Shell
Blue Screens and System Crashes

Recover Lost and Deleted Files
Internet Connections and Problems

Printer or Scanner Problems